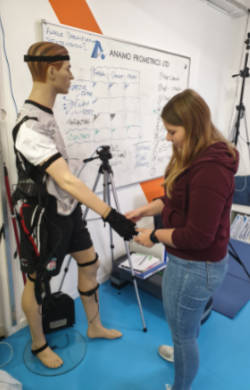 Moving from a start-up 'tech' cluster to exploring the promise of 3D motion capture for Cerebral Palsy
In 2017, I met with Danny Router, Paul Clarke & Kevin Conlan of Redback Bioteck Ltd who introduced me to 3D motion capture and their Organic Motion a studio based marker-less 3D mocap system.   
Shortly after, I was able to update my understanding of the uses and benefits of 3D motion capture when we bought a Perception Neuron Suit and started working on small animation projects. 
During 2018/19, as a 'tech cluster', we moved on to work with different marker-less and marker based systems - each having their own value for specific niches - clinical analysis, high-end sports tech  . 
During this time, we met with Dr Nils Hasler's who developed TheCaptury - a really cost effective 3D markerless mocap system.  This proved to be a gamechanger for us and enabled us to form AnamoLABS™- Cork - a private mocap laboratory at the Marina Commercial Park, Cork, Ireland. 
Since then, AnamoLABS™ has given us the opportunity to reach out and work with many interesting mocap projects.  We were particularly pleased with the opportunity to work with Gillian O'Dwyer and her team of physiotherapists at Enable Ireland - initially with assessment and treatment of Cerebral Palsy. 
While we are pleased with our initial research and progress to date, we are now considering how to scale and share the development of our AnamoCGA™ - clinical gait analysis with children and adults with additional needs. 
.